March 31 - April 3, 2005
Polat Renaissance Hotel, Istanbul, Turkey
Real Web Site of this Page

Click here for Speaker Comments about the conference.
Click here for Teacher Comments about the conference.

Scroll down for registration fees, the conference schedule, handouts and graduate credit.



As an organization that serves three continents—Europe, Asia and Africa—it was most fitting that the 2005 NESA Teachers' Conference be held in Istanbul, the city that uniquely bridges East and West. The newly renovated Polat Renaissance Hotel hosted almost 600 delegates from across the NESA region for four days of high-quality professional development.

Delegates commenced each of the four conference days with a motivating keynote: Ian Jukes kicked off the conference with a high energy, information-packed presentation on "Understanding Digital Kids: Teaching and Learning in the New Digital Landscape"; Russell Quaglia spoke eloquently on "Understanding Student Aspirations: Enhancing the Learning Environment"; Fran Prolman inspired delegates with her keynote on "The Power and Passion in Education"; and Sylvia Chard demonstrated "The Power of Project Based Learning".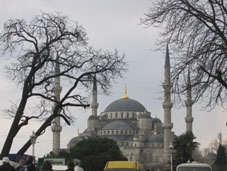 The Blue Mosque

The conference program offered a rich variety of presentations covering a wide range of disciplines. Delegates chose from among 19 half-day "institutes" on Thursday and Saturday on topics ranging from physical education, diversity, children's literature, designing research projects, critical thinking, learning with the brain in mind, science education, upper level math, online education via Blackboard, and many more. Specialist speakers also presented single workshops on National Board Certification, recruitment, curriculum mapping, and multiculturalism, among others. Throughout the conference, 66 NESA teachers presented workshops to their peers, displaying the outstanding professional work of NESA educators. Additionally, The College Board offered a five-day (Tuesday – Saturday) Advanced Placement Calculus Institute.

Several awards are given during the Teachers' Conference: the NESA Call for Papers was won by ACS Beirut's Mary Opalenik; AIS-Tel Aviv's Zoe Matza won the Stanley Haas/Luke Hansen Student Award (sponsored by GBG TieCare). Both winners were NESA's guests in Istanbul and addressed a plenary session of delegates.

NESA Math League awards for 2004-2005 were announced, and Rayyan Ghuma, from the International School of Islamabad, one of five winners worldwide of a Margaret Sanders Foundation International Schools Scholarship, was honored. NESA Teacher Representatives sold raffle tickets throughout the conference to raise funds for the Community Service Awards, grants distributed to worthy community service projects at NESA regular member schools. For detailed information on NESA awards, please go to "About NESA" ‡ "Awards" in the main menu at left.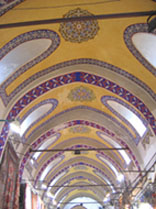 The roof of the Grand Bazaar.

A NESA Teachers' Conference wouldn't be complete without time to enjoy the fellowship of friends. Thursday evening delegates savored a fish dinner at Kumkapi, a traditional fisherman's quarter on the Sea of Marmara. Saturday night, delegates dined and danced the night away at the Polat's "Champions". The conference ended Sunday afternoon with a moving ceremony by the Whirling Dervishes.

Mark your calendars with next year's dates and venue: March 23-26, 2006 at the Shangri-La Hotel in Bangkok, Thailand.

Plus, NESA's other professional development events for teachers:
— ABC Institute ("Assessment, Best Practices, Curruculum"), October 26-27, 2005 in Bahrain
— Winter Specialists' Conference ("World Languages"/"Middle School"), January 26-27, 2006 in Abu Dhabi

See you there!
+++++++


CONFERENCE SCHEDULE
Download the Conference Schedule: TC05Program60.doc
Click here for downloading instructions.

HANDOUTS
Go to the link at the top of the page.

REGISTRATION FEES(for reference only)
School Delegates
NESA Regular Member: $400/person
NESA Associate Member: $475/person
Non-member: $550/person
Codelegate: $130/person

Exhibitor Delegates
NESA Member: $430/person
Non-member: $780/person
Codelegate: $130/person

Exhibit Tables:
NESA member: $440/table (one additional table is free)
Non-member: $670/table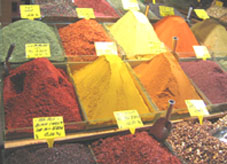 At the Spice Market.

The College Board's AP Calculus Institute (5 days)
Fee: $600 (included tuition; materials; lunch for the five days; attendance at NESA Teachers' Conference keynotes and conference sessions on Sunday, April 3; and all Teachers' Conference social events).

CHILDCARE was organized by Omar's Destination Services in collaboration with Bosphorus International School.

GRADUATE CREDIT
An opportunity to earn graduate credit for participation in this conference is available from San Diego State University and Buffalo State College, State University of New York (SUNY). Details about both programs are located in the menu at the top of the page.